Psalm 147:3 – "He heals the brokenhearted and binds up their wounds."
Loneliness is the feeling of isolation from people, groups, and environments. Chances are at some point in your life you have felt lonely. Or, you feel that way right now. The first thing to know is you are not alone in feeling this way. Millions of people around the world feel lonely.
Many people become lonely after the end of a relationship, divorce, or death of a loved one. However, there are various other reasons that lead to loneliness as well. If you experience feeling lonely there is something you can do to help yourself. First, you need to identify why you feel lonely. You need to be honest with yourself and maybe speak to a therapist to pinpoint the cause. Speaking to a professional often helps people feel safe to share their emotions.
While your faith should always be at the forefront of everything in your life, it's this moment that you want to tap into it deeply. Through your faith, you will gain a deep understanding that you are never truly alone in life.
If your loneliness stems from being isolated from others, you can begin welcoming people into your life by joining a Bible study or group at church that you find interesting. Just joining one group will expose you to new friends with similar interests. This can lead to meaningful friendships that can last you a lifetime.
You can break out of loneliness by taking one simple step such as participating in church events. If you haven't been to church in a long time, don't worry, because the door is always open. You can attend as soon as you like and begin your new journey to becoming more involved in church. There are also support groups you can attend where you are encouraged to share your testimony. Chances are your strength to overcome loneliness will encourage someone else to take the same action.
Technology has allowed bible study groups to meet online. Some church choirs have even practiced online via a group chat. You always have access to people that will encourage you to stay strong, keep your faith and break out of loneliness.
Isaiah 41:10 – "So do not fear, for I am with you; do not be dismayed, for I am your God. I will strengthen you and help you; I will uphold you with my righteous right hand."
---
Wilson Alvarez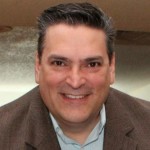 is a Business & Technology Evangelist. Mr. Alvarez is a John Maxwell Certified Speaker, & loves ministry work. He has been involved in Kairos Prison Ministry as well as other Men Ministries. He is the President of the Christian Chamber of Greater Miami. Mr. Alvarez's talents, according to Gallup: Activator, Futuristic, Relator, Ideation and WOO! For ministry opportunities please contact Mr. Alvarez at 305-386-6165 or via info@wilsonalvarez.com.