Romans 12:18 – "If it is possible, as far as it depends on you, live at peace with everyone."
Have you ever met someone who has a special glow? You know the people who seem so at peace that you are convinced they don't have a worry in the world? Chances are you have met someone or even many people with this special peaceful glow. Peace is something that comes within and involves faith.
If you were to ask these peaceful people what their secret is, they would most likely answer "faith." Having faith in God and living a good life according to scripture helps many people achieve this peaceful glow. Whether you are working hard to achieve peace or you already have, you need to share peace with others.
The definition of peace reads, "freedom from disturbance; quiet and tranquility." There are many moments in life that require peace instead of anger.
Many people easily share peace with strangers in public places. However, when it comes to family members, friends, and co-workers, peace isn't always easy.
Let's look at a family for a moment to get a better understanding. Holidays are quite difficult for many families because there are many people gathered together with different personalities. These personalities are not all bad, but they are different and have clear opinions about various topics which often result in arguments.
Obviously, this situation is far from free of disturbance. In fact, it's mostly disturbances that involve loud arguments and disagreements. But, what were to happen if just one person involved in the conflict were to choose peace over disturbance? Let's say a relative has extreme political views and enjoys discussing issues passionately. Your relative knows these topics will surely cause distress and arguments. In fact, they might be looking forward to the debate and argument. But, what happens if your politically strong minded relative came up to ready to battle it out over politics and you chose to be peaceful. Meaning, you allow your relative to say everything they want to say about politics, and just answer "I find your point of view interesting." Then you change the subject or offer them food.
Sharing peace with people in your life will set a good example for them to follow. It will also fill your life with peaceful people.
James 3:18 – "Peacemakers who so in peace reap a harvest of righteousness."
---
Wilson Alvarez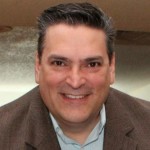 is a Business & Technology Evangelist. Mr. Alvarez is a John Maxwell Certified Speaker, & loves ministry work. He has been involved in Kairos Prison Ministry as well as other Men Ministries. He is the President of the Christian Chamber of Greater Miami. Mr. Alvarez's talents, according to Gallup: Activator, Futuristic, Relator, Ideation and WOO! For ministry opportunities please contact Mr. Alvarez at 305-386-6165 or via info@wilsonalvarez.com.