Isaiah 40:29 – "He gives strength to the weary and increases the power of the weak."
Everyone experiences difficult obstacles in life. Some might last longer than others and some are easier to solve. Issues with health, family, work, finances and marriage are the most common obstacles people face in today's world. During these difficult times in life is when you improve your strength and faith.
Think back to a situation in your life that was very difficult to get through. Did you become filled with fear, worry, anxiety and stress? Or, did you focus on your faith in God?
Ephesians 6:10 – "Finally, be strong in the Lord and in his mighty power."
It's easy to be confronted with an issue and become scared and worried. But, you should not dwell on these emotions for too long. Once the initial shock of the situation sinks in, you should put your faith in the Lord. Focus on praying and finding comfort and peace in the Lord. Read the bible and remember the scripture mentioned above.
Once you find your peace, faith, and strength in the Lord, focus on finding a solution to the situation. If your doctor has told you to lose weight for health reasons, make changes to your lifestyle that will help you achieve this goal. If you are having financial troubles, create a plan that will help you get out of debt.
Some issues are serious and life threatening. These types of issues change a person forever. It is during these moments that your strength will become stronger and your faith deeper. Solving an issue such as a serious illness is not easy. However, with the combination of your faith in the Lord, doctors and positive thinking you will build strength in abundance that will help you get through your journey.
Your inner strength will keep you moving in a forward direction through any obstacles in life. As you navigate your way through difficult situations you should always know you are not alone. The Lord is with you. Believe in his might power and keep your faith strong.
Use your belief and strength to solve problems and move past them. Surround yourself with positive people that can encourage you to go forward. You can also join a group at church or a support group. Creating a positive, kind and loving support group is essential to your progress. Be strong and push forward.
Psalm 46:1 – "God is our refuge and strength, an ever-present help in trouble."
---
Wilson Alvarez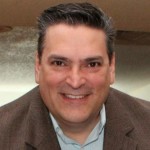 is a Business & Technology Evangelist. Mr. Alvarez is a John Maxwell Certified Speaker, & loves ministry work. He has been involved in Kairos Prison Ministry as well as other Men Ministries. He is the President of the Christian Chamber of Greater Miami. Mr. Alvarez's talents, according to Gallup: Activator, Futuristic, Relator, Ideation and WOO! For ministry opportunities please contact Mr. Alvarez at 305-386-6165 or via info@wilsonalvarez.com.